︎︎︎



Simina Oprescu (b. 1993) is a composer and multidisciplinary artist from Bucharest, Romania. She graduated the Dynamic Image and Photography Department at the Bucharest National University of Arts and studied at the department of acousmatic composition at the Royal Conservatory of Mons (Belgium) for one year. She is currently residing in Berlin, continuing her studies at the UdK's M.A - Sound Studies and Sonic Arts.

Her approach to sound could be perceived a junction of ethereal and immersive sonic landscapes, evoking a veiled corner of thought, whilst creating new perspectives on concepts inspired by philosophy, architecture, physics, games and by the idea of form determines the rhythm which is continuously explored.

Simina was part of the SHAPE roster in 2020, a collaboration that made possible the following projects to surface : 'The Hidden Environment/The Feeling of the Cave' (48') commissioned by ORF/musikprotokoll, OE1 Kunstradio, Vienna; 'Ludus' (AV) commissioned work by MOTA Museum and Sonica Festival, Ljublanja, 'Sulphurus Formicidae' (AV, 4'27"), commissioned by Rokolectiv Festival a project developed entitled "Earthly Soundtracks For The Non-Human".

She was awarded the silver award at Grand Prix Nova for the work 'Drip Drop' (4'11', 2018) commissioned by SEMI SILENT and a nomination at Phonurgia Nova - Pierre Schaeffer with the silent movie soundtrack of 'Drăguș, life in a Romanian Village' comissioned by Image&Sound. Her track KI 03 was featured in The Wire's "Below The Radar" compilations series. She has been an active presence in the Romanian experimental music scene in the past years.




︎ oprescu.simina@gmail.com

Electronic works
︎


https://soundcloud.com/siminaoprescu ︎
https://siminaoprescu.bandcamp.com ︎


Radiophonic/art works
︎︎︎
SEMI SILENT
platform for sound art, radio art and field recording
'DRIP DROP' (2018)
http://semisilent.ro/drip-drop/
'ONE BAG OF ROTTEN TOMATOES ONE BAG OF ROTTEN POTATOES' (2017)

http://semisilent.ro/o-punga-de-rosii-stricate-si-o-punga-de-cartofi-stricati/
'IL COLOMBRE' (2018)

https://soundcloud.com/siminaoprescu/monstrul-colombre ︎
ÖRF MUSIKPROTOKOLL

'THE HIDDEN ENVIRONMENT, THE FEELING OF THE CAVE' (2020)

http://www.kunstradio.at/2020B/11_10_20.html?fbclid=IwAR00eSkAEjYSq3nKJSQzMRRjMc9EHk1-teXc6wvodqUnK6s8td-Bz8vu_eQ
https://musikprotokoll.orf.at/node/948
Installation works
︎︎

2020

︎RADAR NEW MEDIA ART Festival - ACT LIFT OFF︎

︎that can be explored next year, at RADAR 2021.
4 weeks, 5 creative teams and over 1200 hours at Romaero. The purpose – to restore a Boeing 737 fuselage (12m long) to its initial shape and turn it into an immersive light (400 sqm of LED) and sound installation. A project developed by 5 creative teams: Mișu Cojocaru, Adrian Adilau Sandulescu, Aural Eye, Ygreq Interactive, Simina Oprescu, Silviu Stroe, Diț


Sound design: Simina Oprescu

https://fb.watch/21MFCn3VkN/
https://www.instagram.com/p/CGvSUhHp5ZS/?utm_source=ig_web_copy_link
2018

︎SECONDARY SONIC SPACE




︎ more about published in TURBULENCES VIDEO #101 - FR










Releases︎

2021

HYDROPHITES
The outcome of Nona Inescu and Simina Oprescu collaboration. A very limited artist edition of twenty 10" records (signed and numbered) of the soundtrack composed by yours truly, for her most recent video work "Hydrophites", featuring the talented vocalist Geo Aghinea.
The sound on each record is unique, a charachteristic of the vinyl lathe cutting process done by Balàsz Kovács. The record was made in the context of Nona Inescu's exhibition "Waterlily Jaguar" at SpazioA, Italy.

︎https://www.facebook.com/1532102021/videos/10224666215872777/
︎https://vimeo.com/517467612
2020
︎ DUDUKI
track on the compilation On The Right Track Sociopath by Orgone Dealers

https://orgonedealers.bandcamp.com/album/on-the-right-sociopath-vol-1

Compilation of electro-psychotix from Romania, Serbia, Russia and Belgium.
All tracks mastered by Alexandru Drăgănescu aka JB
Artwork: collage by Ion Bârlădeanu, 1992, courtesy of H'Art Gallery
Design by Marina Oprea
© Orgone Dealers, 2020



KI
EP
'It is 2056. The air is crammed with a strung-out anticipation and not a moment goes by that does not foreshadow the demise of an eleven-billion-strong species. Environmental warfare spreads by plants; insect-machine hybrids carrying diseases designed to infect specific racial and ethnic groups via targeted DNA sequencing; volatile weather systems; all meld in this ecology of collapse.' - Toby Heys
Change has its manifestation through every form, and the invisible form will have a strong word to say in our subconscious and emotion processing throughout this apocalyptic burn out times. An invisible revolution of the soul. '
worked between late2019 - early2020, Bucharest, Romania
released June 30, 2020

Digital artwork: Smaranda Voican
©all rights reserved
Simina Oprescu
︎ THE WIRE - Below the Radar
KI 03
released - CD compilation SHAPE Artists 2020
︎ the ATTIC
KI 02

︎ MACHINESTIC
track released on Hallucinating Heights released on cassette by Ondes HXCX.
'The second release on Ondes HXCX brings together a selection of emerging, as well as more established artists from Romania.
The tape presents a collage of all the tracks brought together via an array of sound-pieces which act as binding interludes.'

https://ondeshxcx.bandcamp.com/album/hallucinating-heights?fbclid=IwAR2yxiiTImrDZKwEWFfw3XE0oSJPtvoexJJ1VSHJAtZFXwoVklWRiBdhHNU


Awards & Nominations
︎
2020
︎
NIMBOSTRATUS awarded the 3rd place in the compositional contest
'Quoting Beethoven'

on the occasion of the 250th anniversary of the birth of Ludwig van Beethoven.
Organisers – Goethe-Institut, forumul cultural austriac, SĂPTĂMÂNA SUNETULUI, National University of Music, Bucharest.
https://soundcloud.com/siminaoprescu/nimbostratus


︎
The soundtrack of Drăguș - Life in a Romanian Village, together with Image and Sound is nominated for the Découvertes Pierre Schaeffer award at
Phonurgia Nova


'Phonurgia nova awards selection committee is pleased to unveil the list of nominated authors for the 2020 festival which will take place at BnF on October 2/3 and 4 Out of 305 productions received from 30 countries, 40 creations have been selected from the most amazing of the moment. They are already audible online by the jury who can now read them - and prepare the arguments they will exchange in front of you, during this much-awaited listening feast.'

SHAPE
Platform for Innovative Music and Audiovisual Art from
Europe
2019


︎ SEMI SILENT Awards - Audience Award for the work 'DRIP DROP composed and recorded during the Sonic Future Residency in 2018.

︎
Grand Prix Nova - Short Forms

with the work 'DRIP DROP' -
Silver Award
︎ http://www.grandprixnova.ro/info/info-index.htm?c=4741&g=7 ︎ https://www.facebook.com/gpnromania/videos/690897831339371/
2018
Inner Sound New Arts Festival
- Jury's Award

Part of the laureats at the Innersound New Arts Festival - 100years of Romanian Sounds with the recomposed work Tragic Numberture inspired by the original composition of romanian composer Marcel Mihalovici - Tragic Ouverture.



LIVE concerts
︎

2020
• Comissioned
quatrophonic works by
CYNETART Festival
https://www.cynetart.org/2020/#9
and
SONICA Festival
https://www.sonica.si/artists-projects2020
due to Covid-19.
SIMULTAN XV Festival
- https://fb.watch/20WBQkl3z4/

Review on
Positionen.Berlin
- https://www.positionen.berlin/post/position-simultan-festival?fbclid=IwAR3rU2iN11EolRnzqzBAYW4kw1XEAM52ccS5hAk2UY1gBNN-I2FxiZRka1I


• 45 min live concert "Deep Surroundings with a Splash! of Water" inside Kristin Wenzel's life-size installation 'The Near and the Elsewhere' at Suprainfinit Gallery - https://www.facebook.com/events/ 147491233106394/


2019

• 40 min live concert at
POCHEN Multimedia Biennale Symposium
in Chemnitz, Germany - https://soundcloud.com/siminaoprescu/deepsurroundings

• 40min live session w/modular synth at Kino Šiška in Ljubljana at
SONICA Festival
in collaboration with
MOTA museum
- https://www.facebook.com/pg/kinosiska.si/photos/?tab=album&album_id=10157413888869876&ref=page_internal


• 50min live concert at Slănic Moldova in the Salt Mine, during the festival IN CONTEXT - https://www.facebook.com/events/1126255644232140/

• 1h30m live set w/ modular synth - RezidențaBRD Scena9 POST MUZICA invites the audience of the BRD Scena9 Residence to a program curated by Mitoș Micleușanu and produced by the Foundation9 dedicated to sound and active artists in the experimental area of contemporary music.Each POST MUSIC edition will include a presentation of the guest artist, a discussion moderated by the curator of the program, Mitoș Micleuşanu, and a performance - live audition."Post-music is what remains when we forget everything we know about music, what remains when we no longer try to" delight the eardrums "(or mourn them) harmonically or rhythmically what remains when the sound becomes an intuitive paste. modeled, when we discover in real time how it "escapes" us from the aesthetic, conceptual control, etc. one of the fundamental questions related to post-music: is it possible to make the sound under the "dictatorship" of music? all the more so as including the noises in their diversity, the sound of the city or the forest, they can be considered [a kind of] music. their spectral structure, the possibilities of transforming an already recorded sound, allow it to be approached or removed from what we understand by music in this case, is it white noise music? if its "granular dissection" allows re-shaping, reassembly of its sonic particles, into a song? the first conclusion would be that: any noise contains "latent music" at the granular level, as in the subatomic physics there is the hypothesis of the elementary particle (quanta) that contains the imprint of the object of which it is part, a kind of memory of the whole subatomic scale. "https://soundcloud.com/post-muzica/editatwav


• 3h30m Hybrid extended set at
Rokolectiv Festival
at Front Control Club
• 60 min, live performance at the Jobless AI series concerts at Club16
• KRAN NYE 2019 live performance 90 min.


2018

• 50 min. perfomance at Contemporary Art National Museum (MNAC) during a session with personal compositions organized by Brizura - A musical series hosting debuts, experiments and the merging of arts in unitarily-diverse spectacular nights.
https://www.facebook.com/events/234829430535136/

• Tripoteca festival, 40 min. live AV performance with the visuals of Mihai Matei.
Bucharest
https://www.facebook.com/Tripoteca/videos/vb.433842349992398/332063717553054/?type=2&theater

• Intersections with the live online project Experiment+ https://www.youtube.com/watch?v=hEMKjVPDBzw

• 20 min performance at Sâmbăta Sonoră (Sonorous Saturday) during Săptămâna Sunetului - La Semaine du Son at Apollo111 Theatre

• 45 min performance at the radio Stazione di Topolò organized by Moreno Miorelli in the 24h festival ToBeContinued played from Bruxelles. http://www.stazioneditopolo.it/24h-2018/index.html


2017


• In Mons (Be) , personal compositions presentation during a session organized by the class of acousmatic department.


for Radio
︎
2020
︎
ORF musikprotokoll Kunstradio
https://musikprotokoll.orf.at/en/2020/projekt/hidden-environment
https://radiohoerer.info/the-hidden-environment-the-feeling-of-the-cave-von-simina-oprescu/
Cashmere Radio
https://cashmereradio.com/episode/eastern-daze-14-simina-oprescu/
Red Light Radio
https://www.mixcloud.com/RedLightRadio/simina-oprescu-for-rlr-control-club-bucharest-06-15-2019/?fbclid=IwAR1fdDs0bwDj7MTHn-5uJksaZB7jO9vgg1hgSgCFlnyEAbDs2qswXclAtUc
Noods Radio
https://www.mixcloud.com/NoodsRadio/subterranean-modern-w-simina-oprescu-3rd-july-19/
radioCONA

Cona Zavod/Institute

https://soundcloud.com/cona-zavod-institute/radiocona-podcast-no-5-6-all-about-water-urban-dreamscapes
Workshops &
Residencies
︎
︎RIVERSSSOUNDS organised by DZESTRA (Ukraine) in parternship with SEMI SILENT (Romania) (2021) - https://riversssounds.org/mures

︎Charo Calvo (ES, BE) - composer, sound artist - Technics of Sonorous Writing (2017) inside the project Her Voice by SEMI SILENT

︎Philippe Franck (BE) - art historian, designer and cultural critic, producer, sound creator and intermediary, director of Transcultures - Centre of Interdisciplinary Arts of Sonorous & Numeric Culture, Secondary Sonic Space Installation (2018)
Raymond Delepierre (BE) - sound artist and sound engineer, Secondary Sonic Space Installation (2018)

︎Felix Blume (FR, ES ) - sound artist, field recordist and sound engineer, Sonic Future Residency, Asociația Jumătatea Plină (2018)

︎Erwin Stache (DE) - composer, sound artist, mathematician - Sonorous Interventions In The Urban Space (2019) inside Săptămâna Sunetului/ Week of Sound.


Lectures, Interviews & Panel Talks
︎
2019


• Lecture on Sound, Listening and Acousmatic composition inside the Bandwidth Residency supported by Ștefan Câlția Foundation and Posibilă Gallery at Șona.
- nice review by Daria Nedelcu on Bandwidth Residency and the 3rd edition of
Sounds like a book. - https://revistaarta.ro/en/bandwidth-2/?fbclid=IwAR1x3rI02adwSdjXFJjdLc7CWkSfcELN3jyfAWOoWfXpinbcqFCbvpvr0Co

• Panel Talk on Sound & Capital inside SONICA Festival coordinated by Andrej Tomažin - https://vimeo.com/368630941

• In conversation with Dražen Dragojević - https://vimeo.com/365707125



2020
Is musicality specific to humans only? Can animals consciously perceive pitches and beats? Do birds get high when they sing? Watch an interesting and entertaining talk between artist Simina Oprescu and music cognition scientist
Prof. dr. Henkjan Honing.
He recently published the very interesting book
"The evolving animal orchestra"
at
A more detailed lecture about his research here: https://bit.ly/2SZihj2

Part of "Probabilities Around the Center".With support from SHAPE platform, co-funded by the Creative Europe programme of the European Union. Co-financed by A.F.C.N. - Administratia Fondului Cultural National.

• Interview Revista Arta - http://revistaarta.ro/en/sound-has-color-anyway/

• 10 day training residency on Acousmatic composition inside Rezidența21 at LETEA IN UNESCO by association MATKA, together with Diana Miron, Sillyconductor (Cătălin Matei) and special guest Laurențiu Coțac - https://www.facebook.com/rezidenta21/

• Interview SHAPE - https://shapeplatform.eu/2020/the-sound-is-the-soul-an-interview-with-simina-oprescu/


for Video & Film
︎
2018


Sound producing & composition for the video work "Vestigial Structures" of the artist Nona Inescu exhibited in the gallery Frac des Pays de la Loire (Fr). - https://www.youtube.com/watch?v=teYs-L0ssKs -

Exhibited at
CCRMA Stanford
at
Audiovisual Wall
https://ccrma.stanford.edu/wave/?fbclid=IwAR2uJDNxP-hr85lcwo4d-XNFYYqf4C61ByxhJ7b9HLAKl7J3mbF2SEl99xM - 2020

2020
Possible Sounds of Early Cinema
"Drăguș - Life in a Romanian Village" (1929, one of the first sociological and ethnographical documentary films in the world), in the frame of Possible Sounds of Early Cinema project, conceived by
Image and Sound
(Bucharest)
live concert
at Rezidența BRD Scena9 for the screening of "Drăguș"


• In the period of 2012 - 2016 I developed a series of photo & video projects but in this moment are not quite representative, I can enounce "Urban dead nature" (2012-2014), "Sky is the limit (2015), "Catharsis" (2016) , "Interior" (2016), Traces (Replacing) (2017), "Straight Forward" (2017), etc. While using the moving image I came across with Sound and soon I discovered that the most important step into making a good Video work is having a good Sound work, therefore I shifted completely, realising that Sound and creating a synesthetic environment are more important than my previous researches and practices.



2021

Bucharest Hours (Witold Klimowicz, 1942)
silent film, unedited footage, runtime: 61 minutes
music: Simina Oprescu
Only specialized dictionaries still recall the name of Polish documentary filmmaker Witold Klimowicz, who came to Romania seeking shelter from the early horrors of the Second World War. Once employed at the National Office of Cinematography, Klimowicz would collaborate with Paul Călinescu ("How is a Film Piece Made?", 1940) and oversee the first steps of young filmmaker Victor Iliu.
Commenced in September '42 and resumed later for technical reasons, "Bucharest Hours" was intended to embody the urban symphony of a supple and chic Bucharest so as to draw attention away from the war. As it stands today, the film is, above all, the shooting journal of a most eager filmmaker. As Klimowicz never managed to carry out his project, the footage stored at the National Film Archive includes shaky frames, retakes, landscapes captured in multiple takes, "duplicates", as it were, and others. It is by fortune alone that those of us today can witness the film in its unpolished form, partly because it grants us more of its charming images before which we can never deem ourselves satiated. Let him who does not behold longingly the promise of early buildings, the folk loitering around pools, the adornments of the masses on boulevards, the carefree day-to-day spent in cafés, step forward. Every so often, we must all partake in such opium. As this Bucharest never existed in effect, but was edited to appear thus. This is, in part, why we're fortunate that its retakes and duplicates are on display. Not only are the vistas of the University and the Roman Square anthological, but also, or above all, the boy who stumbles into frame and forces the operator to shield the lens with the palm of his hand. (Călin Boto)
https://imageandsound.ro/en/intermedia/short-sounds-silent-romanian-documentary/bucharest-hours-urban-documentary-1942/
COLLAPSUS
︎note: The sound was worked and composed with analog modular synthesis and MIDI arrangement. The text was adapted from Earth Sound Earth Signals- Energies and Earth Magnitude in the Arts by Douglas Kahn. The original dialogue was between Millet Morgan and Emory Cook. In my fascination with Alvin Lucier and Tesla, I did an abstract adaptation where a Sergeant is put to an impossible task - to eliminate a thunderbolt that came from another planet and caused serious damage to the ship. There we found a dialogue of explaining the phenomenon of whistlers compared by Cook, with the dispersion of the full-spectrum of electromagnetic burst of lightning into the magnetosphere, jumping over the equator from one hemisphere to the other, to form a glissando, to a deck of cards. They arrived on the Planet but it was utterly electro-magnetic and full of lightnings that they couldn't leave anymore, being stuck to the ground by the magnetism of the Planet in a continuous and hilarious search in catching the thunderbolt.
︎https://www.youtube.com/watch?v=EegXBM1BHLE&feature=youtu.be
Work selected to be presented during the 16th edition of MERIDIAN International New Music Festival, "Planetarium" - 2020 (postponed 2021)

︎https://snr-simc.org/2020/07/06/planetarium-results-for-the-audio-video-open-call/?fbclid=IwAR0ycUiBoLsTpSST1Pw9UVK6vOIc9-PiH2weIyXab7_GEQHjzo0aP1iAg6g
Work selected and awarded inside SIMULTAN XVI. UNSTABLE STATE OF THINGS

︎www.simultan.org/2021/video-works/



Work selected for the National Competition BIEFF - Bucharest International Film Festival - Are we human?

︎To be screened at Cinemateca Eforie at 17:00 on 19th of November 2021
︎https://bieff.ro/en/film/collapsus-2/
Curatorial presentation
This experiment with language offers us a kind of strange encounter between F.J. Ossang's cinema and abstract video art, against the backdrop of a SF dystopia. Simina Oprescu gives the soundscape the immersive dimension of something pretending to be extraterrestrial (or, at the very least, distant and obscure). Black, white and a multitude of organic and inorganic textures are framed in a postmodern discourse adapted from a dialogue between Millet Morgan and Emory Cook. In this realm of future danger, formal ambiguity gives us the opportunity to explore the materiality of the new world. (Daria Barbu)


The repetition of a certain sound leads to its implementation in cognitive and emotional memory and maybe having an impact on the developing character of the adult mind later on.
-Current research-
#𝑙𝑢𝑑𝑢𝑠


LUDUS
Video & sound work (2020)
Commissioned work by MOTA Museum in Ljubljana, exhibited at Equrna Galerija inside SONICA festival 'Paradise Haunted Garden'.
and exhibited at Mestna Galerija in Nova Gorica inside PixxelPoint Festival.
'LUDUS' is an experiment that aims to use the game as a mean ofresearch for the ways in which form can change the sound andinitiate the rhythm.Inside the game, the rules play an important role in setting/creatingthe rhythm, thus modulating the form, the invisible shape of sound.The secrecy of the play gives that aleatoric, unpredictable movementof sound in space. In contradiction with its rules which demand andorganise, somehow the beauty of the play lies exactly in itscontradictions. If the game would be predictable 100%, there won'tbe any stake of winning, the rules trace the territory/ form and thesecret confers content/ substance. In play/game it's a duality, therelation between visible and invisible."The exceptional and special position of play is most tellinglyillustrated by the fact that it loves to surround itself with an air ofsecrecy. Even in early childhood the charm of play is enhanced bymaking a "secret" out of it. This is for us, not for the "others". Whatthe "others" do "outside" is no concern of ours at the moment. Insidethe circle of the game the laws and customs of ordinary life no longercount. We are different and do things differently.[…] Archaic man was well aware that music was a sacred forcecapable of rousing the emotions, and a game. Only much later was itappreciated as a significant addition to life and an expression of life,in short, an art in our sense of the word" - Johan Huizinga - Homo Ludens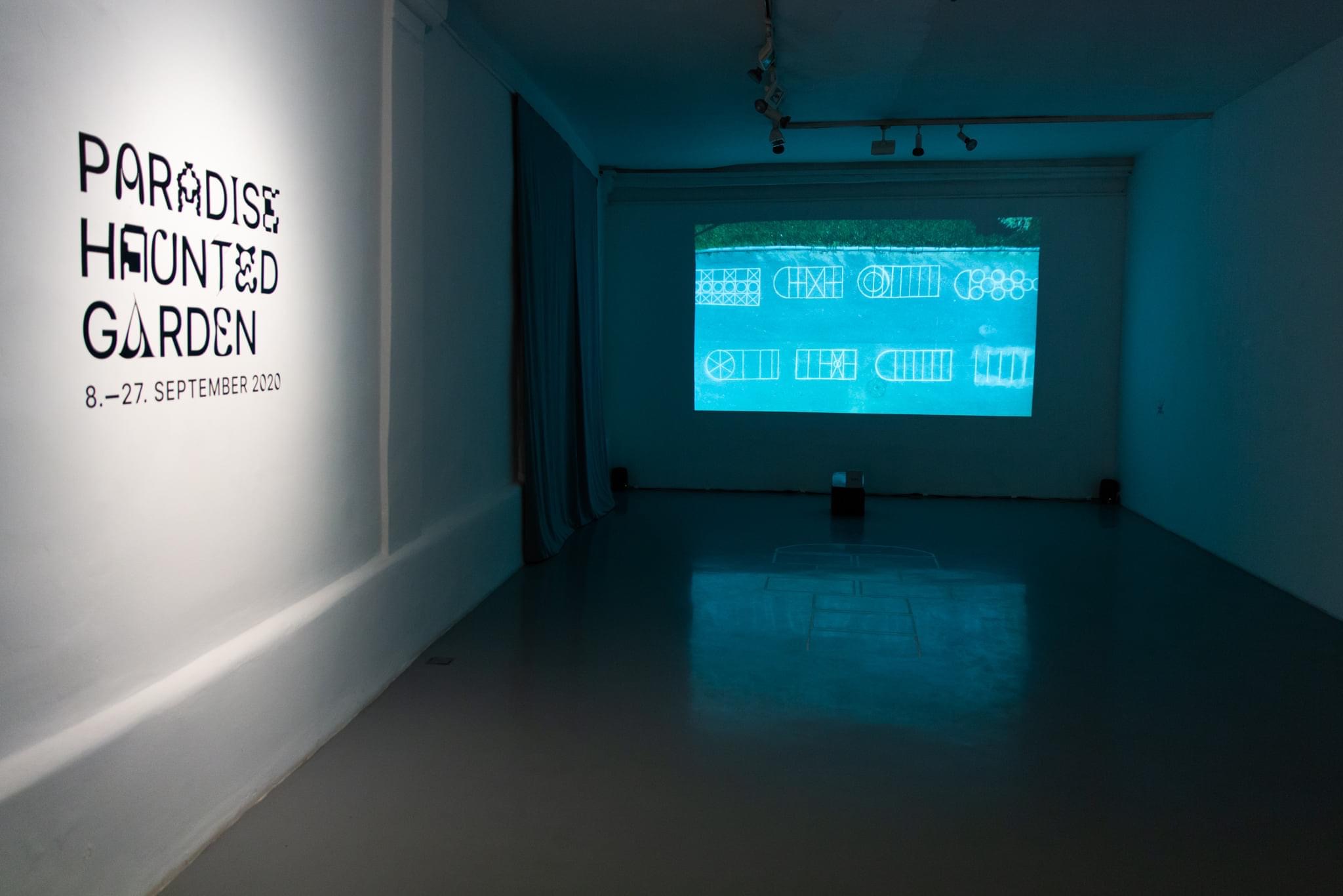 SULPHURUS FORMICIDAE

Audio Video work (2020)

The concept behind this film is about the apparently endless lines that clearly imply a sort of a 'dialogue' let's say, between members of the family. Imagined this Queen that has sent them on a mission which appears to happen every season between June and September which is called the 'Nuptial fly', a relationship between multiple mating by queens that creates a colony genetic variability. They are called Lascius Niger or the Black Garden Ant. That dialogue and bustle drew my attention and I wanted to capture it in sound as well. The first frames though are a metaphoric forecast of what is coming. It's a footage from the Mud Volcanos, Buzău county in Romania, a protected area with sulphurous soil and salt flats.The phenomenon is caused due to gases that erupt from 3,000 metres (9,800 ft) deep towards the surface, through the underground layers of clay and water they push up underground salty water and mud, so that they overflow through the mouths of the volcanoes, while the gas emerges as bubbles. Then, while working on it, I thought it can be also like a SF scenario where a new genetically huge mutant species of Formicidae is born from the Mud Volcanos, with a single mission, to save our Planet (and 'Nuptial Fly' is actually called when they embark to capture us all at night.) You'll never know.
Originally composed for "Earthly Soundtracks For The Non-Human", a project developed by
Rokolectiv Festival
with support from

SHAPE platform.

https://rokolectiv.ro/earthly-soundtracks.html